| | |
| --- | --- |
| Tell Your Friends! | Visit our sister practices |
Contact/Find us -
Silver

Pepper

Clinic
Address
Silver Pepper Clinic
32 Harborough Road
Kingsthorpe
Northamptonshire
NN2 7AZ

Tel: 01604 210443

Emergencies
We are very happy to assist our patients who have a dental emergency by seeing them immediately subject to a fee as you will be seen in front of other patients with pre-booked appointments.
Outside normal hours an emergency service is provided.
Please call 01604 210443.
Appointments
We operate strictly by appointment only.

Our service is offered to all patients on a private basis and our fees reflect the quality of care we provide to ensure excellence.

Flexible payment options are discussed and written treatment plan and estimates are available.
Cancellations
A cancellation fee may apply for patients giving us less than 24 hours notice.

NOW Saturday appointments available strictly for private patients only.
New Patients
There is an initial fee of £55.50 charged to you for an extensive examination which includes decay detection, full medical records, x-rays and consultation on your treatment needs. For more information, click here.
How to Find Us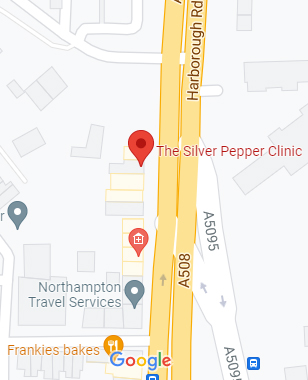 The Silver Pepper Clinic' - Amazing offers. Taking on New patients.
Call 01604 210443 or
email practice.manager@thesilverpepperclinic.com
to confirm your place.
Fully comprehensive dental examination £10.45
(usually £54)*
Injectable Anti - Wrinkle Treatments from £99*.
Podiatrist
Kerri Money SRCh DPODM MChA registration no. ch23003
Treatments Offered:
General Foot Checks/ Routine Nail Care
All problem Nails/ Ingrowing Nails (Local anaesthetic if required)
Callous/ Corns/ Dry Cracked Skin/ Skin Infections
Verrucaes (Cryosurgery-Freezing)
Nail surgery (Permanent Solution to persistent In growing Nails)
GAIT ANALYSIS / Orthotics (insoles) SPECIALIST AREA
Working Hours;
Wednesday 9am until 5pm
Friday 9am until 12.30pm
Contact the clinic to book an appointment
Would you like to email us?
Copyright © ThePepperClinics. All rights reserved.
Last Update: 27-May-2023